Current Highlights
Purdue University Agriculture Feature
Behind the Research: GTAP

When people from more than 40 countries meet at the annual Conference on Global Economic Analysis — whether in Warsaw, Melbourne, Shanghai or West Lafayette — they share a common language developed at Purdue. Clarity and transparency are hallmarks of this language, because the work is used to shape important policy decisions across the world.
As world leaders take their seats at the 74th UN General Assembly in New York in September 2019, the fate of current and future generations will be in their hands. The world's economies, businesses and our own well-being all depend on nature. But from climate change, extreme weather and flooding, to water shortages, soil erosion and species extinctions, evidence shows that our planet is changing faster than at any other time in history. The way we feed, fuel and finance ourselves is destroying the life-support systems on which we depend, risking global economic devastation.
GTAP 10 Data Base Released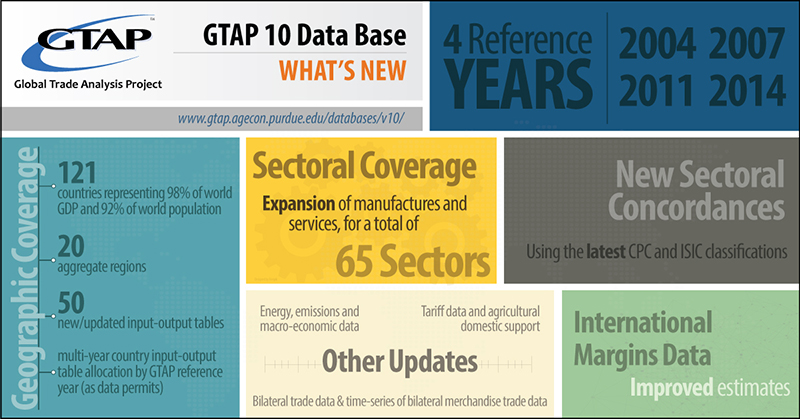 2020-1 GTAP 101 Course
"Introduction to Computable General Equilibrium Modeling"
March 16 – May 3, 2020




Dates/Deadlines (EST)
Course Application
September 9 - January 5
Acceptance Notifications
February



Coursework based on:
Introduction to Computable General Equilibrium Models, 2e
by Mary E. Burfisher

The objective of GTAP 101 is to engage participants in an active, team-based process of learning about the GTAP CGE model and its use in applied economic policy analysis. The curriculum is geared to advanced undergraduates, graduates and professionals. Following the course, participants will be entry-level modelers and more informed consumers of CGE-based analyses.


Announcements
Organizations interested in posting an announcement below and on the GTAP-L Mailing List should email complete details, including contact information and closing dates, to contactgtap@purdue.edu.
Network Events/Notices

Deadline

There are no network events/notices currently available.
Job/Professional Opportunities

Deadline

There are no job/professional opportunities currently available.
GTAP Support
GTAP Network members in need of technical support are encouraged to use the following avenues to request assistance. General, non-technical inquiries may be addressed to
contactgtap@purdue.edu
.
GTAP FAQs
The Center for Global Trade Analysis maintains a searchable repository of frequently asked questions on many different aspects of GTAP.
GTAP Support Email
gtapsupport@purdue.edu is an account monitored by the Center for Global Trade Analysis' data team. Network members can email to reach a GTAP staff member for technical support on any GTAP product.
GTAP-L Mailing List
GTAP-L is an email-based list to which many members of the GTAP Network subscribe in order to receive updates on the GTAP Data Base, model, events, jobs and technical assistance. For further information, to subscribe or to access a searchable archive of GTAP-L messages, please visit the GTAP-L Mailing List homepage