GTAP 10 Data Base Released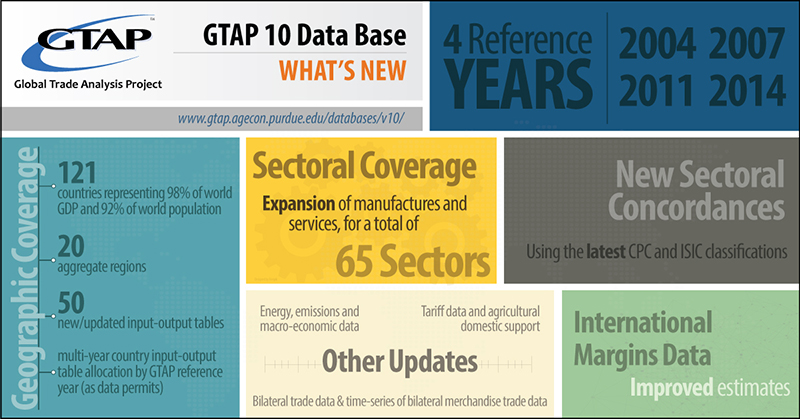 Current Highlights
2020-1 GTAP 101 Course
"Introduction to Computable General Equilibrium Modeling"
March 16 – May 3, 2020




Dates/Deadlines (EST)
Course Application
September 9 - January 5
Acceptance Notifications
February



Coursework based on:
Introduction to Computable General Equilibrium Models, 2e
by Mary E. Burfisher

The objective of GTAP 101 is to engage participants in an active, team-based process of learning about the GTAP CGE model and its use in applied economic policy analysis. The curriculum is geared to advanced undergraduates, graduates and professionals. Following the course, participants will be entry-level modelers and more informed consumers of CGE-based analyses.
GTAP in the News
Purdue University Agriculture News
Purdue economists warn palm oil solutions may have unintended consequences
The growth of palm oil, the most-consumed vegetable oil in the world, has been fueled by expansion of palm plantings in Malaysia and Indonesia that have contributed to massive deforestation in those countries. The carbon and biodiversity losses there have spurred the European Union and others to call for measures to slow palm oil sales and limit forest losses.
Purdue University economists warn that global measures to decrease palm oil production will have repercussions in Malaysia and Indonesia that will affect the rest of the world. Their study modeling likely policy outcomes, published this week in the Proceedings of the National Academy of Sciences, shows that these impacts could negate any forest savings and damage Malaysian and Indonesian economies.
The Center is always interested to learn when GTAP-based analysis is recognized on a platform, such as the piece(s) above. If you have similar items you wish to share with the Center and broader GTAP community, please feel free to email them to
Ginger Batta
.


Announcements
Organizations interested in posting an announcement below and on the GTAP-L Mailing List should email complete details, including contact information and closing dates, to contactgtap@purdue.edu.
Network Events/Notices

Deadline

There are no network events/notices currently available.
GTAP Support
GTAP Network members in need of technical support are encouraged to use the following avenues to request assistance. General, non-technical inquiries may be addressed to
contactgtap@purdue.edu
.
GTAP FAQs
The Center for Global Trade Analysis maintains a searchable repository of frequently asked questions on many different aspects of GTAP.
GTAP Support Email
gtapsupport@purdue.edu is an account monitored by the Center for Global Trade Analysis' data team. Network members can email to reach a GTAP staff member for technical support on any GTAP product.
GTAP-L Mailing List
GTAP-L is an email-based list to which many members of the GTAP Network subscribe in order to receive updates on the GTAP Data Base, model, events, jobs and technical assistance. For further information, to subscribe or to access a searchable archive of GTAP-L messages, please visit the GTAP-L Mailing List homepage