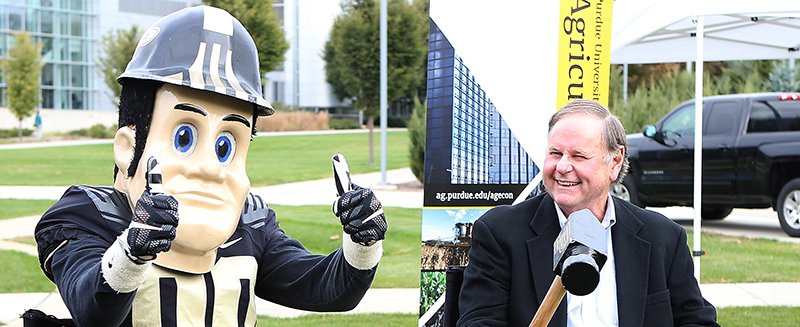 Renowned Purdue agricultural economist passes away
GTAP 10 Data Base Released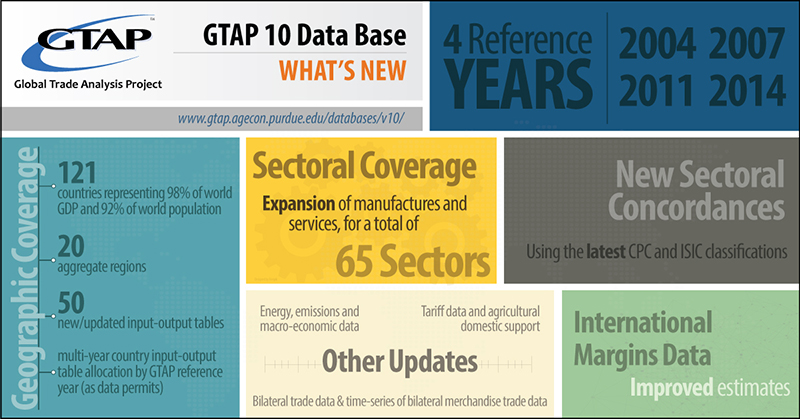 Current Highlights
Journal of Global Economic Analysis

The Center for Global Trade Analysis is pleased to announce the latest issue of the Journal of Global Economic Analysis has been released. All articles are open access and include supplementary files that allow for replication of results.
The Journal of Global Economic Analysis, Vol 4, No 1 (June 2019) includes the following articles:
Maryla Maliszewska
Senior Economist
The World Bank
Eddy Bekkers
For significant contributions in trade modeling: firm heterogeneity, gravity modelling, traded goods prices, food price pass through, foreign affiliate sales and trade in services, and for being instrumental in developing the WTO's trade model, converting the standard GTAP model into a recursive dynamic model with additional features such as increasing returns to scale and Melitz-like features.
Wolfgang Britz
For significant advances in promoting the GTAP framework through the development of satellite data, especially in agriculture, and for the development of the CGEBox modeling software, which provides a flexible, extendable and modular code basis for CGE modeling in GAMS drawing on the GTAP Data Base, combined with a powerful user interface based on GGIG (GAMS Graphical User Interface Generator).
Everett Peterson
For outstanding contributions to GTAP theory and data bases through developing the first margins-inclusive version of the GTAP model -- along with a prototype data base, for pioneering a new approach to disaggregating agricultural activity using FAO data, and for recent work on developing a version of GTAP with frictional unemployment.
Anna Strutt
For being an extremely highly valued instructor on multiple GTAP Courses (standard and dynamic short courses and GTAP PTA), for her extensive analyses of trade agreements using the GTAP Data Base and model, estimation and modeling of non-tariff measures (NTM), as well as being a frequent attendee, presenter, reviewer, chair, and mentor/advisor at the annual conference.
2019 GTAP Firm Heterogeneity Course
"Applied Policy Analysis with Advanced Trade Theories"
October 7 - November 17, 2019




Dates/Deadlines (EST)
Applications
February 4 - July 21
Acceptance Notifications
August

The GTAP-HET Course is a hands-on, fully-online course developed to provide professional economists and Masters/PhD students with the tools and skills necessary to use advanced trade theories in trade policy analysis. During the course, participants will:

learn about the Melitz model of heterogenous firms, viewed as a more general version of the Krugman model of monopolistic competition, and Armington model with perfect competition;
develop skills to use the GTAP Firm Heterogeneity (GTAP-HET) Model where Armington, Krugman, and Melitz models are nested in the GTAP computable general equilibrium framework;
conduct trade policy experiments and interpret simulation results using the GTAP-HET Model in team-based research projects.


Announcements
Organizations interested in posting an announcement below and on the GTAP-L Mailing List should email complete details, including contact information and closing dates, to contactgtap@purdue.edu.
GTAP Events

Deadline

There are no GTAP events/notices currently available.
GTAP Support
GTAP Network members in need of technical support are encouraged to use the following avenues to request assistance. General, non-technical inquiries may be addressed to
contactgtap@purdue.edu
.
GTAP FAQs
The Center for Global Trade Analysis maintains a searchable repository of frequently asked questions on many different aspects of GTAP.
GTAP Support Email
gtapsupport@purdue.edu is an account monitored by the Center for Global Trade Analysis' data team. Network members can email to reach a GTAP staff member for technical support on any GTAP product.
GTAP-L Mailing List
GTAP-L is an email-based list to which many members of the GTAP Network subscribe in order to receive updates on the GTAP Data Base, model, events, jobs and technical assistance. For further information, to subscribe or to access a searchable archive of GTAP-L messages, please visit the GTAP-L Mailing List homepage