Current Highlights
28th Annual Short Course in Global Trade Analysis
"Theory and Applications of Computable General Equilibrium Analysis with the GTAP Model"
July 20-24, 2020 | West Lafayette, Indiana, USA





Purdue University

Dates/Deadlines (EST)
Applications
Nov 6 – March 1
Acceptance Notifications
April
Online Course
May 11 - July 12

The GTAP Short Course is an intensive training course in the economics of global policy analysis. The five-day, onsite course is supplemented with five online preparatory modules that introduce the data, core economic behaviors, and computational implementation of GTAP. Each preparatory module consists of two hours of online content delivered as lectures and demonstrations, and includes tools for both self-evaluation and for feedback from the instruction team.

introduce participants to a standardized framework (GTAP Model, v7)
provide participants with hands-on training
deliver participants an opportunity to interact with economists working on global trade and resource use issues
23rd Annual Conference on Global Economic Analysis
"Global Economic Analysis Beyond 2020"
June 17-19, 2020 | Tokyo, Japan



National Graduate Institute for Policy Studies
Tokyo, Japan

Dates/Deadlines (EST)
Abstracts / Session Proposals
Nov 4 - Jan 15
Abstract Review
Jan 21 - Feb 16
Acceptance Notifications
Feb / Mar
Final Papers
Apr 15
Registrations
Feb - Apr 30
Payments
May 7


The goal of the conference is to promote the exchange of ideas among economists conducting quantitative analysis of global economic issues.
The overall theme of the conference is "Global Economic Analysis Beyond 2020" with subthemes on:

Achievements in SDGs
Challenges of regional integration and globalization
Income distribution impact of economic policy
Globally coordinated common tools of economic analyses

Post-Doctoral Research Associate in the Economics of Land and Water Use
This position is part of Purdue's initiative in Global to Local Analysis of Systems Sustainability (GLASS: https://mygeohub.org/groups/glass) and this individual will report directly to the PI: Thomas Hertel. It will involve working with an inter-disciplinary team of researchers seeking to understand the local environmental stresses emerging as a consequence of global change, as well as the consequences of local responses to these stressors. The focus is on land and water resources used in agriculture.
The economic modeling undertaken by this individual will be spatially explicit and seeks to characterize economic and biophysical relationships at the level of individual grid cells, all nested within a global economic model.
The start date for this full-time appointment: January 1, 2020. This will be an annual appointment, renewable for up to three years.
Purdue University is an EOE/AA employer. All individuals, including minorities, women, individuals with disabilities, and veterans are encouraged to apply.
2020 GTAP Preferential Trade Agreements Course
"Applied Policy Analysis: Course on Preferential Trade Agreements"
May 4 - June 12, 2020




Dates/Deadlines (EST)
Applications
October 21 - February 23
Acceptance Notifications
Late March



Coursework based on:
Introduction to Computable General Equilibrium Models
by Mary E. Burfisher


The GTAP PTA Course is designed to provide professionals and students with hands-on, applied training in the analysis of preferential trade agreements (PTAs) using the GTAP computable general equilibrium model. The objectives of the GTAP PTA course are to provide participants with an opportunity to develop their applied skills in the design of PTA experiments, the implementation of changes in tariff and non-tariff barriers, and the analysis of model results.
Purdue University Agriculture Feature
Behind the Research: GTAP

When people from more than 40 countries meet at the annual Conference on Global Economic Analysis — whether in Warsaw, Melbourne, Shanghai or West Lafayette — they share a common language developed at Purdue. Clarity and transparency are hallmarks of this language, because the work is used to shape important policy decisions across the world.
As world leaders take their seats at the 74th UN General Assembly in New York in September 2019, the fate of current and future generations will be in their hands. The world's economies, businesses and our own well-being all depend on nature. But from climate change, extreme weather and flooding, to water shortages, soil erosion and species extinctions, evidence shows that our planet is changing faster than at any other time in history. The way we feed, fuel and finance ourselves is destroying the life-support systems on which we depend, risking global economic devastation.
GTAP 10 Data Base Released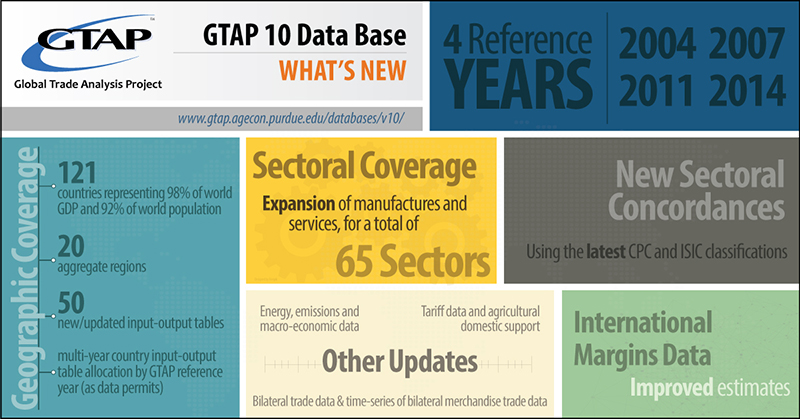 2020-1 GTAP 101 Course
"Introduction to Computable General Equilibrium Modeling"
March 16 – May 3, 2020




Dates/Deadlines (EST)
Course Application
September 9 - January 5
Acceptance Notifications
February



Coursework based on:
Introduction to Computable General Equilibrium Models, 2e
by Mary E. Burfisher

The objective of GTAP 101 is to engage participants in an active, team-based process of learning about the GTAP CGE model and its use in applied economic policy analysis. The curriculum is geared to advanced undergraduates, graduates and professionals. Following the course, participants will be entry-level modelers and more informed consumers of CGE-based analyses.


Announcements
Organizations interested in posting an announcement below and on the GTAP-L Mailing List should email complete details, including contact information and closing dates, to contactgtap@purdue.edu.
Network Events/Notices

Deadline

There are no network events/notices currently available.
GTAP Support
GTAP Network members in need of technical support are encouraged to use the following avenues to request assistance. General, non-technical inquiries may be addressed to
contactgtap@purdue.edu
.
GTAP FAQs
The Center for Global Trade Analysis maintains a searchable repository of frequently asked questions on many different aspects of GTAP.
GTAP Support Email
gtapsupport@purdue.edu is an account monitored by the Center for Global Trade Analysis' data team. Network members can email to reach a GTAP staff member for technical support on any GTAP product.
GTAP-L Mailing List
GTAP-L is an email-based list to which many members of the GTAP Network subscribe in order to receive updates on the GTAP Data Base, model, events, jobs and technical assistance. For further information, to subscribe or to access a searchable archive of GTAP-L messages, please visit the GTAP-L Mailing List homepage