GTAP Products:

GTAP Book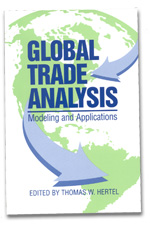 The standard GTAP framework is documented in
Global Trade Analysis: Modeling and Applications
, T.W. Hertel (ed.), published in 1997 by Cambridge University Press. (
Download available
)
This book is divided into 4 parts:
The applications are grouped into 3 broad categories:
The effects of economic growth on factor markets
Trade policy liberalization
Applications to resources, technology, and the environment
All of the applications in this book can be replicated using the
GEMPACK-based software and files
described in Chapter 6 of the book. Alternatively, we provide another program named
RunGTAP
for the replication.
Table of Contents
Foreword
by Alan A. Powell
PART I: INTRODUCTION AND OVERVIEW
1. Introduction
by Thomas W. Hertel
PART II: STRUCTURE OF GTAP FRAMEWORK
2.
Structure of GTAP
(draft version)
by Thomas W. Hertel and Marinos E. Tsigas
3. Overview of the GTAP Data Base
by Mark Gehlhar, Denice Gray, Thomas W. Hertel, Karen Huff, Elena Ianchovichina, Bradley J. McDonald, Robert McDougall, Marinos E. Tsigas, and Randall Wigle
4. GTAP Behavior Parameters
by Karen Huff, Kevin Hanslow, Thomas W. Hertel, and Marinos E. Tsigas;
5. Aggregation and Computation of Equilibrium Elasticities
by Thomas W. Hertel, D. Kent Lanclos, Kenneth R. Pearson, and Padma V. Swaminathan
6. Implementing GTAP Using the GEMPACK SOFTWARE
by Kenneth R. Pearson
PART III: APPLICATIONS OF GTAP
7.
Developing Country Expansion and Relative Wages in Industrial Countries
by Robert McDougall and Rod Tyers
8.
An Evaluation of the Cairns Group Strategies for Agriculture in the Uruguay Round
by Donald MacLaren
9.
Free Trade in the Pacific Rim: On what basis?
by Linda M.Young and Karen M. Huff
10.
Evaluating the benefits of abolishing the MFA in the Uruguay Round package
by Yongzheng Yang, Will Martin, and Koji Yanagishima
11.
Global climate change and agriculture
by Marinos E. Tsigas, George B. Frisvold, and Betsey Kuhn
12.
Environmental Policy Modeling
by Carlo Perroni and Randall Wigle
13.
Environmental effects of agricultural research with technological spillovers
by George B. Frisvold
Part IV: EVALUATION OF GTAP
14.
Historical analysis of growth and trade patterns in the Pacific Rim
by Mark Gehlhar
15. Implications for Global Trade Analysis
by Thomas W. Hertel
GEMPACK Files for the GTAP Book Applications
The GTAP Book version of GemPACK is available for download, as well as the standard version of the GTAP Model, and several aggregations of the GTAP data. These enable users to carry out simulations with GTAP, and to replicate most of the applications in the GTAP Book.
Further instructions on how to download and install these files will be provided. We suggest that you put these files into a directory on your computer called
\gtapbook
.
How to Order?
Be sure to order the paperback version. It is cheaper and has a number of incorporated corrections.
Last Modified: 9/15/2023 2:04:53 PM